Welcome to Mind-Aker Knives
I STRIVE TO CREATE BEAUTIFUL CUSTOM KNIVES THAT CAN BE COLLECTED, USED, AND PASSED DOWN FROM GENERATION TO GENERATION. THROUGHOUT MY LIFE I HAVE ALWAYS HAD AN APPRECIATION FOR MECHANICAL PERFECTION AND FINE FIT AND FINISH AND WORK TOWARDS PROVIDING THOSE QUALITIES IN ALL OF MY KNIVES. HAVE A LOOK AROUND AND PICK UP A GREAT KNIFE FOR YOUR COLLECTION, BUT DON'T LET THE BEAUTY FOOL YOU, I DESIGN THESE KNIVES TO PERFORM AS GREAT AS THEY LOOK!
- DAVE BAKER, THE MIND-AKER
ALL KNIVES ARE PROUDLY MADE IN THE USA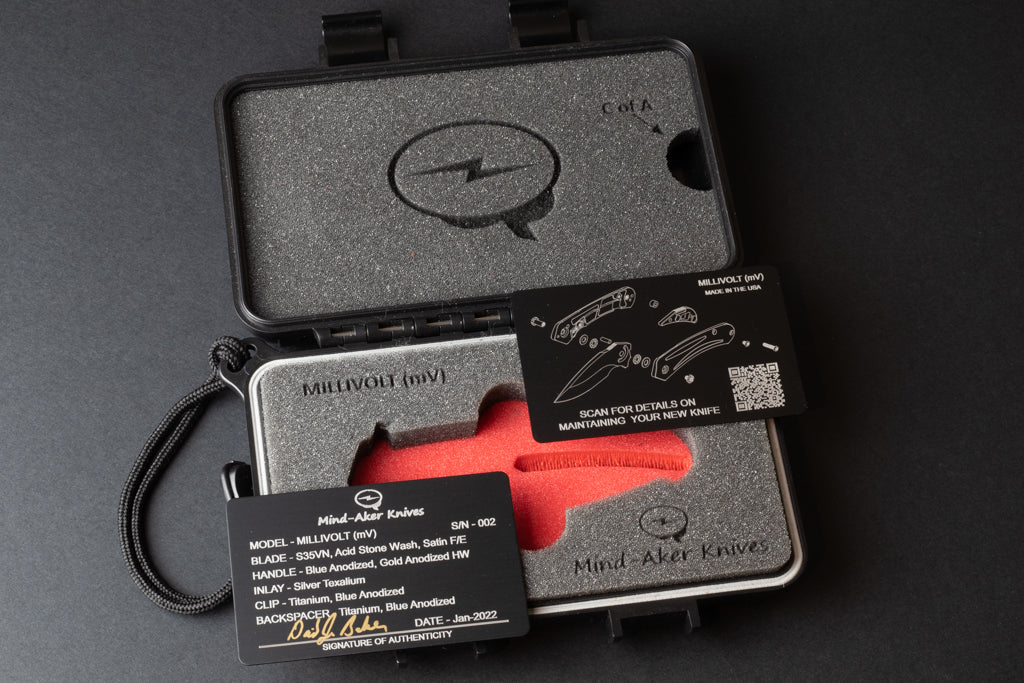 ALL KNIVES COME IN A PREMIUM HIGH QUALITY WATERPROOF CASE WITH A LASER ETCHED ANODIZED ALUMINUM CERTIFICATE OF AUTHENTICITY SIGNED BY ME. ON THE BACK OF THE C OF A IS AN EXPLODED VIEW OF HOW YOUR KNIFE CAN BE TAKEN APART FOR SERVICE AND A QR CODE THAT CAN BE SCANNED WITH YOUR PHONE THAT WILL TAKE YOU DIRECTLY TO A PAGE WITH DETAILED INSTRUCTIONS ON MAINTAINING YOUR NEW KNIFE.